Sobre o Synchroteam
Synchroteam is a cloud-based field service management and scheduling solution that caters to businesses of all sizes in field service industry that includes cleaning services, construction, electrical and HVAC. Synchroteam features contact management, scheduling and dispatch and works order management functionalities. It enables users to drag and drop jobs into employee schedules based on the location, qualification and availability of employees. The solution also provides dispatchers with a real-time view of their workers in the field. Users can customize reports to ensure employees in the field capture specific metrics and parameters about jobs and customers. Synchoteam also provides mobile applications for iOS and Android devices that helps workers to remotely access the solution. APIs are provided for integration with various CRM and ERP systems and users' websites. Additionally, Synchroteam offers billing, invoicing and inventory management functionalities to the users. Services are offered on a monthly subscription basis that includes support via phone, email and other online resources.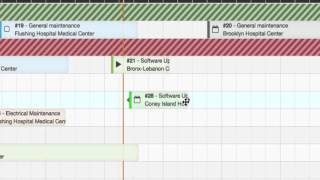 Synchroteam possui uma versão gratuita e oferece versão de teste grátis. Versão paga do Synchroteam a partir de 24,00 US$/mês.
Detalhes dos preços:
One Free administrator account Integrates with: - Google Calendar, iCal and Outlook - Quickbooks Online, Sage, and Xero - ZohoCRM Free setup & training A 14-day free trial is available. No credit card required.
Ver planos de pagamento
Versão de teste gratuita:
Alternativas para oSynchroteam
Avaliações do Synchroteam
Setor: Serviços e tecnologia da informação
Porte da empresa: 2-10 funcionários
Usado

Diariamente

durante

1 a 5 meses

Fonte da avaliação
Relação qualidade/preço
5
---
Efficient. Informative. Useful
I'd been running as an independent IT consultant for a few years. All of a sudden I won two big contracts that made hiring an employee and getting some sort of job scheduling/tracking system a priority.
I demoed pretty well every offering. Synchroteam stood out for a couple of key reasons. The biggest for me was their inventory system. Although it is still in its early days and lacking a few features that I hope are on the way, it's a good inventory system that gives me the ability to transfer stock from the 'warehouse' to our cars and know who has what.
There were other systems out there with inventory but a lot of them were overkill for me and most of them were overly expensive. Synchroteam's price is very reasonable and priced by the tech (free admin account) so it was affordable for starting up.
The way it is setup is logical and once you get used to it (It does look different than most of the other offerings, kind of old school) it is pretty intuitive. Creating clients, jobs and sites is straightforward and the details page of each is well laid out for easy digestion of the information.
The mobile app is good, better than most of the others. It has that same old school look as the website (which isn't a bad thing). The display of information and the interaction with that info is well presented. Tapping phone numbers calls the client, tapping the address give you directions, tapping the client gives your more details via the website, etc. When you create custom fields on your jobs (you should) they get their own screen in the mobile app which is a great way to present key information (Serial #s, Model #'s, etc). You can also create jobs in the mobile app which is handy for me as I dispatch on the go.
The biggest shortcoming I can see, although I don't really use it, is the reporting. I'm not really sure what it reports. I've mucked around with it but haven't gotten any valuable information out.
There are some things I would like to do that I can't and some other things that I hope will evolve into something better but I think these guys know what they are doing. I see the product has had updates since I joined a little over a month ago and looking at past changes I can see that they have been continually improving and adding to the system. I've had good interactions with the help desk (although not always getting the answers I would like) and my rep has been attentive but not too attentive.
Demo the software, you'll like it.
Vantagens
Good Inventory
Good presentation of information
Good mobile app
Easy to use
Customization
Desvantagens
missing some features, for example can't search by serial number
Resposta de

Synchroteam

Thank you Robert for your positive feedback on Synchroteam¿s inventory functionality, ease of use, and mobile application. We are pleased to hear everythingIT has benefitted from our customizable user interface and job scheduling/tracking tools. We appreciate your observation of our reporting functionalities, and continue to release updates that enhance operational efficiency. Within our inventory module you now have the capability to search by serial number manually in the search bar, or scan the barcode of the item. Stay tuned to our blog (https://www.synchroteam.com/blog/) for information on new releases!

Respondido em 01/05/2018
Setor: Telecomunicações
Porte da empresa: 11-50 funcionários
Usado

Diariamente

durante

1 a 5 meses

Fonte da avaliação
Relação qualidade/preço
5
---
Initial review
Scheduling, dispatching, time tracking. Would like to see the GPS and invoicing modules improved. See cons
Vantagens
Streamlining of my team's dispatching process
Desvantagens
Lead tech controls time on jobs. Need aux techs to control their own time. i.e. Lead tech gets to job and determines that he needs help, or techs arriving and leaving at different times. Also would like to see better flow between labor hours and invoicing. Labor hours should automatically transferred to the invoice. Also would like to see the GPS module improved to track actual location of techs and "geofencing" where techs would not be able to sign into a job until they are close to the job site
Alternativas consideradas
Wintac
Razões para mudar para o Synchroteam
Overall cost. Ability to customize. The biggie is the job report template
Resposta de

Synchroteam

Thank you Joe for your review of Synchroteam's field service management software. We are pleased to know the Urban City Telecom team has been able to streamline their dispatching process, and have benefited from Synchroteam's scheduling and time tracking features. We appreciate your suggestions regarding labor hours transferred to the invoice, as well as geofencing technicians for clock in purposes, and will forward this along to our support team. We encourage you to reach out to our support team to discuss the best way to optimize each technician controlling their own time on the job. We also recommend checking out our blog (https://www.synchroteam.com/blog/) as we frequently release details on new features, best practice recommendations, and other helpful tips for your industry.

Respondido em 23/06/2019
Usado

Diariamente

durante

1 a 5 meses

Fonte da avaliação
Relação qualidade/preço
2
---
Not great, not terrible
Price was the winning factor to why I started using this product. The sales team did a good job of presenting the potential of the product but a poor job of explaining the shortcomings that would become discovered in my first month of using it. Overall I'm not terribly happy with the investment and I won't be using it long-term. Unsure what I will move to going forward.
Vantagens
The cost isn't terrible for what you can do. There are some interesting features that some might find really useful. It's quite customizable, so if the features are useful the level to which you can get with the tools such as reports can be quite the positive experience.
Desvantagens
Pricing is in euro which makes the fluctuation of costs due to rising/falling dollar rates difficult to anticipate how much is withdrawn each month. I've run into some glitches/issues when setting up reports that don't function as intended. The workflow for setting up very dynamic reports is terrible. The UI feels clunky. Pages don't load live changes made to progression of jobs and there is a lot of work that could have been done better. I feel like I've paid for a platform that was developed in the 1980's and hasn't been updated since. Like it was the beta of someone's project that was never finished, but now is being marketed as a completed product. It feels old, poorly managed, poorly supported, and like there is a general lack of care around what the end product looks like, does, and how it functions.
Resposta de

Synchroteam

Thank you for your review Ryan, we appreciate your honest feedback. We apologize for the issues you are facing with reporting and the UI, and would love to get more information on the glitches you are experiencing so that we can resolve them promptly. Please contact our support team (https://www.synchroteam.com/contact.php) so that we can assist in improving the dynamic reporting workflows for Victoria Moss & Gutter. Also check out our latest update, which includes a time tracking module that syncs tasks seamlessly between the mobile application and Synchroteam¿s platform. For more information on the update visit https://www.synchroteam.com/blog/2018/03/08/time-tracking-new-module-synchroteam/

Respondido em 01/05/2018
Setor: Música
Porte da empresa: 2-10 funcionários
Usado

Diariamente

durante

Mais de dois anos

Fonte da avaliação
Relação qualidade/preço
5
---
Excellent Program
The customer service was excellent. Anytime we had a question the answer was given within a more than reasonable timeframe.
Vantagens
We loved the compact feel of it. Not as bulky and bloated as a CRM.
Desvantagens
There was nothing we disliked. The only reason we switched is because we found some new software that is specifically designed for piano tuners/technicians.
Resposta de

Synchroteam

Josh, we appreciate you taking the time to review Synchroteam's field service management solution, and are pleased to hear that you had a good experience with the platform and our customer service team. We recommend checking out our blog (https://www.synchroteam.com/blog/) as we frequently release details on new features, best practice recommendations, and other helpful tips.

Respondido em 04/02/2022
Setor: Software
Porte da empresa: 2-10 funcionários
Usado

Diariamente

durante

1 a 5 meses

Fonte da avaliação
Relação qualidade/preço
4
---
Excellent Software with excellent service
Vantagens
The scheduling, the custom job reports, and the automatic sycn with Zoho.
And - SUPPORT. Any new integration needs support and the Synchroteam support are available immediately.
Desvantagens
It is a bit hard to understand some of the documentation. Took some time to set up a custom job report
Razões para mudar para o Synchroteam
Much more robust. Customizable for our needs.
Resposta de

Synchroteam

Thank you Ben for your excellent review of Synchroteam's field service management solution. We are pleased to hear that you have found our support team useful and take advantage of our around the clock assistance. We are also glad to hear you are taking advantage of the sync with Zoho as well as scheduling and custom job reporting. Thank you for your feedback regarding our documentation, we will forward it to our support team for potential enhancements. Also, be sure to check out our blog (https://www.synchroteam.com/blog/) as we frequently release details on new features, best practice recommendations, and other helpful tips for your industry or future client implementations.

Respondido em 21/08/2019