Sobre o Pabau
Pabau is the perfect solution for clinics of any size, and provides a simple all-in-one solution to help manage every aspect of your business. Pabau's system helps businesses to save time and enable growth, with the power of automations and a fully paperless workflow. Example of some of the features and their benefits include: - An appointment calendar system to easily keep track of your bookings. - Digital client records that have everything related to each client in one place. This includes, treatment notices, appointments, invoices, communications and more. - Automatic emails and appointment reminders so you can focus more on clients and less on repetitive admin tasks. - An online booking system and integrate no-show/deposit system. - Many marketing features to drive revenue including an inbuilt SMS/email system, vouchers, loyalty programs, referrals, automatic client recalls and more. - Powerful analytical and staff management features. Over 23,000 users trust Pabau to help manage their business. Book a free one-to-one demo with one of our experts today.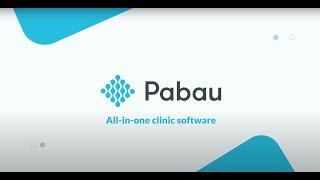 Pabau possui uma versão gratuita e oferece versão de teste grátis. Versão paga do Pabau a partir de 65,00 £/mês.
Preço inicial:
65,00 £/mês
Versão de teste gratuita:
Sim
Setor: Consultório médico
Porte da empresa: 11-50 funcionários
Usado

Diariamente

durante

Mais de dois anos

Fonte da avaliação
Relação qualidade/preço
5
---
Highly recommendable software for clinics and groups of clinics
Superb
Vantagens
The specific reason for which I selected Pabau is that it has an excellent scheduling feature for multi clinic operations. This was an essential feature for me and is working flawlessly.
After that, the training is excellent, [SENSITIVE CONTENT] has been spectacular to help us get into the software.
Desvantagens
So far nothing really; I would make the CRM section a bit more comprehensive, nevertheless, as we can customise it, it is not an issue at all.
Setor: Consultório médico
Porte da empresa: 2-10 funcionários
Usado

Diariamente

durante

1 a 5 meses

Fonte da avaliação
Relação qualidade/preço
5
---
Great software! Excellent functionality
Great so far! Online zoom training was really good and helped to answer a lot of questions
Vantagens
Easy to use and figure out. Most things customisable.
Desvantagens
Forgetting to refresh the iPad after entering records on desktop
Razões para escolher o Pabau
Pabau gives more functionality
Razões para mudar para o Pabau
Allows admin and PA to create appointments and do back of house admin and reports.
Setor: Hospitais e Saúde
Porte da empresa: 2-10 funcionários
Usado

Diariamente

durante

Mais de um ano

Fonte da avaliação
Relação qualidade/preço
2
---
[SENSITIVE CONTENT]
online help is not very responsive, they cant seam to pick up a call. I would expect a call center for the amount of the monthly charge
Vantagens
better than my previous, other than that not much to rave about.
Desvantagens
reporting is complicated, nothing adds up? so you never know if you are paying the right commission.
Resposta de

Pabau

Hi Sarah,

I'm very sorry to hear that you aren't delighted by our system.

If you are having problems with our reporting features, please reach out to our support team who will be happy to schedule some one-on-one training with our of our product experts.

Additionally, we have put in a lot of time and effort to improving the response time of our live chat system, which at the time of your review was still fairly new to our operations.

Hopefully you are a little happier after these improvements, but if not, please don't hesitate to reach out to us with detailed feedback, and we will look to see how things can be further improved.

Respondido em 16/08/2022
Setor: Consultório médico
Porte da empresa: 2-10 funcionários
Usado

Diariamente

durante

1 a 5 meses

Fonte da avaliação
Relação qualidade/preço
4
---
Pabau software does most things well
It does most of what we need from a CRM but definitely still have records we are having to keep outside of the software.
Would have preferred a white label service rather than each step my patients take to have Pabau labelling all over it.
Customer support is below par. Should have a live chat or phone line to call.
A lot of training videos are on a Vimeo account that isn't shared with you at implementation, some features and options have been improved and videos not updated.
The step by step guide function for registered accounts doesn't work and the webinars seem very uninteractive. Seems to be a rush to finish within the 3o minute tieframe.
Pabau has account managers, programming and implementation specialists but it's not ideal if you can't sold problems immediately.
A ticket system that shows other client's concerns or questions would have saved a lot of hassle.
User's forums, blogs, FAQs, Q & As are available but not shared when you come on board.
Having a widget isnt suitable for all sorts of web platforms.
Referral tracking is especially difficult when customer processes are handled putside your existing platform.
Would have like to integrate a diferent payment processor rather than being limited to skype
As at noww, Pabau sems the best fit for our business but we are not assured enough to stop looking for alternatives
Vantagens
A lot of features.
Before and after pictures
A lof of templates to choose from.
Support team willing to integrate any pdf form and help customise to your brand
Desvantagens
Customer support not always accessible.
Would have preferred a dedicated number to call, opening hours etc.
A lot of communication is via email or a request for a call back.
Not suitable when the software isn't responding or you need quick fixes.
Price is on the expensive side especially since you will need to pay Pabau extra subs for more staff, sending texts, marketing functions & Api integrations
Ipad necessary for patient journeys function
Razões para mudar para o Pabau
Seems to have the most features Before and After picures are crucial for us and eliminates a lot of the competition.
Resposta de

Pabau

Hi Oyin,

I just wanted to reply back to this review and thank you for your detailed and thoughtful feedback.

In particular, your points about better highlighting our educational resources to new users will be actioned upon.

I would also like to make you aware that we do indeed have a live chat function. We moved away from phone-based support (though do still escalate to this when required) to a live chat feature because our data showed it to be a more effective method of supporting our customers. However, we will consider if there is a better way of making sure our customers know this support exists.

Thanks again for trusting Pabau as your practice CRM and for helping us to get that little bit better with your constructive feedback.

Respondido em 16/08/2022
Setor: Saúde, bem-estar e condicionamento físico
Porte da empresa: 2-10 funcionários
Usado

Diariamente

durante

6 a 12 meses

Fonte da avaliação
Relação qualidade/preço
5
---
Good overall software
Overall experience has been good. Excellent customer service
Vantagens
It is really easy to book and manage appointments. Good for multiple members of staff and multiple treatments
Desvantagens
We have experienced a couple of glitches when we have multiple locations. Fairly easy to resolve when we spot the errors.
The set up of treatments is quite long winded