Sobre o Campaigner
Campaigner is a cloud-based email marketing solution that caters to small and midsize businesses across various industry verticals. Professionals can create automation workflows using a drag-and-drop interface and improve customer engagement through conditional, behavioral and event-based triggers. Features include A/B testing, customizable templates, geolocation tracking, media library, image editor, reporting, regulatory compliance, sign-up forms and more. Using Campaigner, organizations can import data on the platform and automatically populate subscribers' profiles by adding custom data fields. Managers can schedule recurring email campaigns and create audience segments based on clients' contact activity, demographic data and purchasing behavior. Campaigner facilitates integration with various third-party applications such as Google Analytics, Magento, Shopify, PieSync and more. Pricing is available on monthly and annual subscriptions and support is extended via phone, documentation and an inquiry form.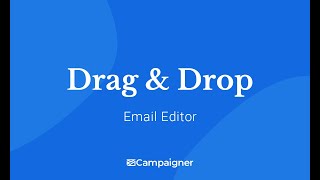 Campaigner não possui uma versão gratuita, mas oferece versão de teste grátis. Versão paga do Campaigner a partir de 19,95 US$/mês.
Preço inicial:
19,95 US$/mês
Versão de teste gratuita:
Sim
Alternativas para oCampaigner
Setor: Consultório médico
Porte da empresa: 51-200 funcionários
Usado

Semanal

durante

Mais de um ano

Fonte da avaliação
Relação qualidade/preço
5
---
Love the Drag & Drop Editor!
Overall, I give Campaigner 5-stars for cusotmer service and email marketing. We appreciate that they continue to develop and improve the software overtime too.
Vantagens
When Campaigner updated the software to utilize the drag and drop editor it was a game-changer! So easy to design templates for simple or more detailed email campaigns. Campaigner has been the best email marketing software that we've used so far and helps us to automate communications to our patients quickly and effectively. We also have to shout-out Campaigner's responsive customer service and support teams. Whenever we have had any issues with our account, the team is quick to respond and resolve any issue that we are experiencing. Speedy support is hard to come by in the software industry.
Desvantagens
We do experience a lot of issues with the SMTP email relay function, which isn't Campaigner's email software directly but within its portfolio that we pay Campaigner for.
Resposta de

j2 Global

Hello Laura,

Thank you very much for your feedback and so happy to hear that you are enjoying the drag and drop email editor! It is also really great to know that our support team has been there to help you when you are in need.

We look forward to continuing to serve your email marketing needs for years to come.

All the best,

Carlos Petersen, Customer Marketing Manager

Respondido em 19/10/2020
Setor: Consultoria de gestão
Porte da empresa: 2-10 funcionários
Usado

Semanal

durante

Mais de dois anos

Fonte da avaliação
Relação qualidade/preço
3
---
Brilliant Customer Support. Limited Functionality
Campaigners customer support is in the absolute top-tier. I've been in the customer experience consulting and training business globally for over 20 years, and I can only think of one other company that is their equal.
Years ago, we switched away from Campaigner to Survey Monkey. We switched back 8 months later. Survey Monkey's customer service didn't come close. Even though we don't need customer support often, we sure appreciate that Campaigner doesn't make you jump through hoops to get to someone who can help.
Campaigner appears to have invested little, however in creating integrations with major platforms like Wordpress. Our subscription list suffers because of it. The support team is sympathetic, but their developers don't appear to care about it. It's too bad, because other than that, this is a world-class company.
Vantagens
Campaigner is easy to use, and doesn't require a lot of technical knowledge to get started (although it certainly helps). Their technical support team is fantastic, though, unlike most other SAAS. They actually have people you can talk to - and they are consistently awesome.
We use it mostly for email marketing. The reporting is great, and everything (except for the 'cons' below) is pretty intuitive.
Desvantagens
Campaigner is missing some critical functionalities that are becoming deal-breakers. Fairly simple things like integrations with Wordpress. One of the biggest gaps is the complete inability to easily create attractive sign-up forms for websites or popups. They have some templates - which are just, well, horrible.
Resposta de

j2 Global

Hello Shaun,

I wanted to thank you for your excellent and in-depth feedback. It is really great to know that our product and customer support team has been something that you can rely on.

Your feedback with regards to integration is also much appreciated and has been sent up to upper management.

Looking forward to serving your email marketing needs in the future, all the best.

Carlos Petersen, Customer Marketing Manager

Respondido em 26/10/2020
Setor: Gestão de organizações sem fins lucrativos
Porte da empresa: 2-10 funcionários
Usado

Semanal

durante

Mais de dois anos

Fonte da avaliação
Relação qualidade/preço
2
---
Much to be desired
We understand Campainer is not just an email program, but they don't seem very interested in our suggestions along the way. It's disappointing that in all these years, there hasn't been any kind of redesign for ease of use. At what we are being charged monthly; we are likely going to shop around and see if there is something better matched for our needs, and priced more competitively.
Vantagens
We use it for simple email blasts to our neighborhood association. We don't use it for marketing campaigns, so therefore do not have the need for some of the functionality available with Campaigner. For our needs it works.
Desvantagens
Ease of use. It is not intuitive, and they haven't done any kind of software or GUI redesign since we started using it (6+ years ago).
Making a template should be a lot easier than it is: Creating and editing templates has a lot of old graphic (frames?) technology that makes for a frustrating experience when trying to line up text blocks with headers, footers and images.
Writing an email with attachments should be easier. Having to upload a file/image to the media library, and then importing it into your email is a lot of steps. Instead, allow a person to add a file/image to an email note in the same simple fashion as any other email client works: add a paper clip button and allow us to select the file to add to the note. That seems like it should have been done a long time ago.
Also, if you accidentally remove a person from an email list, you have to call up Campaigner support to get it fixed; you can't manually fix it yourself. Very annoying.
Resposta de

j2 Global

Hi Scott,

Thank you for taking the time to review the platform.

We appreciate the feedback you provided in regard to the platform and have passed the feedback on to our product team. If you have any additional issues or questions please feel free to let us know.

-The Campaigner Team

Respondido em 15/10/2018
Setor: Imobiliárias
Porte da empresa: 51-200 funcionários
Usado

Diariamente

durante

Mais de dois anos

Fonte da avaliação
Relação qualidade/preço
5
---
Automation and ease of use
Overall, we are extremely satisfied on what this software allows us to do from a campaign standpoint. Our emails are clean and easy to read on mobile devices and on the desktop.
Vantagens
The interface is very user friendly allowing for drag and drop editiong or html editor features make Campaigner a breeze to work with. In addition, being able to automate an email to go out weekly, or every two weeks, three weeks or four weeks is a great feature.
Desvantagens
Sometimes Campaigner is caps sensitive with linked documents, which will sever links if you're not careful and unless you pull it into html editor you may not be able to see the severed link in the drag and drop editor to apply changes.
Resposta de

j2 Global

Hello Jason, thank you very much for leaving this great feedback for us. It most definitely helps us to ensure that we keep Campaigner as optimized to your needs as possible. Best regards - Carlos, Customer Marketing Manager.

Respondido em 25/03/2021
Setor: Arquitetura e planejamento
Porte da empresa: 201-500 funcionários
Usado

Semanal

durante

Mais de dois anos

Fonte da avaliação
Relação qualidade/preço
5
---
Use What You Know
We send a weekly email to 40k users and this program has worked for us for the last 8 years.
Vantagens
This program was already in use when I joined the company and the learning curve was minimal. It has all the standard templates, contacts, and reports that you would need. Every time I have called customer service, they have been helpful.
Desvantagens
Working with the templates can be really finicky. It can be difficult to get it to do what you want at times. It is also not as user friendly as MailChimp, for instance. Their reporting is there but you have to do click more time to get to it and comparing email sends can be annoying the way it's laid out.
Resposta de

j2 Global

Hi Kristi,
Thank you for leaving a review of Campaigner.

We are happy to hear that the platform works well for you and your team. We also appreciate th feedback you provided and have passed it along to our product team.

If you have any additional questions please do not hesitate to contact us.

-The Campaigner Team

Respondido em 15/10/2018