Sobre o Bloomfire
Bloomfire is a cloud-based collaboration platform that aims to help enterprise employees search for information to do their jobs by connecting people with information and knowledge. Bloomfire delivers content management and social collaboration features in a web application. Customer organizations use Bloomfire to find and follow internal experts, create and post content, search and browse interesting topics and ask and answer questions. This solution supports various content types including video, PDF files, PowerPoint presentations, screen captures and more. Bloomfire is smartphone-ready and can be utilized by companies small and large in industries such as IT, hospitality, real estate, health care and education. Users can customize Bloomfire to align with their company brands, and they can create sub-communities, for example one for sales, one for human resources on-boarding, one for safety personnel and more. Bloomfire clients recieve support to set up, optimize and maintain their communities.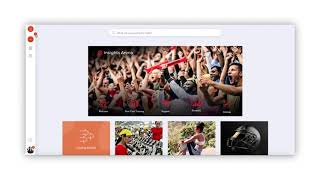 Bloomfire não possui uma versão gratuita.
Preço inicial:
Sem informação do fornecedor
Versão de teste gratuita:
N/D
Alternativas para oBloomfire
Setor: Gestão de organizações sem fins lucrativos
Porte da empresa: 51-200 funcionários
Usado

Diariamente

durante

6 a 12 meses

Fonte da avaliação
Relação qualidade/preço
5
---
Easy to use
Implementation was a dream. They had a team that helped us manage the project and uploaded all our content for us. As a small team, this was important.
Vantagens
It transposes videos, provides full text search, allows for different groups to be created, user analysis so we know if we are getting our money's worth for the tool.
Desvantagens
I wish I could edit docs in the tool. But there are few cons that we have found at this point in time.
Razões para mudar para o Bloomfire
Video transcription, Google type search function, price
Setor: Consultoria de gestão
Porte da empresa: Profissional autônomo
Usado

Semanal

durante

Mais de dois anos

Fonte da avaliação
Relação qualidade/preço
0
---
Easy to use
We use it to house all of the information for a product that I license. We share information across the user base, add articles and find relevant information about using the tools that we license.
Vantagens
Very clear navigation, you know where to find what you are looking for
Desvantagens
Sometimes I have a hard time finding older articles and get mixed up with new and old material when I am looking for a specific piece of informaiton
Setor: Software
Porte da empresa: 51-200 funcionários
Usado

Diariamente

durante

6 a 12 meses

Fonte da avaliação
Relação qualidade/preço
0
---
Recent Updates Diminish Value of Product Usability
The initial experience was extremely positive, the recent updates significantly reduce the usefulness of the product specifically where tables and embedded documents are concerned.
Vantagens
We use the system as a knowledge base to inform our ongoing software implementations and keep our Support team up to speed on current functionality.
I love that articles/posts are really easy to create and categorize. The search functionality works well which makes finding information very easy.
Desvantagens
The product allows you to embed documents and create tables into posts. Unfortunately, a recent update to the user interface reduces the size of the article to about 1/3 the width of a monitor. As a result, tables and embedded documents are extremely difficult to read as the formatting is severely impacted. I am not sure how to post screenshots.
I have escalated to our site administrator who was informed by Bloomfire support that there is no way to revert the settings.
Given that we use the system as a knowledge base, we use tables extensively to summarize information for quick and simple digestion. We also regularly embed word documents, PDFs, and Excel files. The new layout/format makes those embedded documents unreadable without extensive zooming or direct downloading of the articles.
Prior to this change, the product met our needs and was highly functional. That is no longer the case.
Resposta de

Bloomfire

We're sorry to hear that the new format and layout changes have impacted your ability to read tables and embedded documents. Our Client Success team has reached out and would love to work with you to find a solution to this readability issue. We want Bloomfire to continue being as useful to your company as it was when you first started using it.

Respondido em 13/06/2019
Setor: Publicidade e marketing
Porte da empresa: 51-200 funcionários
Usado

Diariamente

durante

Mais de dois anos

Fonte da avaliação
Relação qualidade/preço
5
---
Enables employees with a trove of knowledge
Vantagens
I love how Bloomfire empowers everyone in our company to contribute to our knowledge base and interact with each other's contributions. The community features - commenting, liking, thumbnails - are key to creating that community feel. And it makes such a difference day-to-day to have a single source of truth for our organization.
Also, you can't beat Bloomfire staff. Everyone I've interacted with from customer success to product to engineering has been top notch. They are responsive to immediate support needs and they evolve the product based on customer feedback.
Desvantagens
Some employees find the navigation and search to be challenging. There are some things we need to change about our own implementation to address these issues, and we look forward to future product updates as well.
Setor: Telecomunicações
Porte da empresa: 1001-5000 funcionários
Usado

Diariamente

durante

Mais de dois anos

Fonte da avaliação
Relação qualidade/preço
4
---
Great way to socialized sales content and news
It allowed us to have a searchable content repository of sales collateral and training as well as an announcement board for news and market research.
Vantagens
The "timeline view" for latest content and news. It allows sales to have a quick refresh of the latest developments in the business.
Desvantagens
The search engine could use some optimization and has no easy tools to build product taxonomies which limits a bit its adoption as a sales enablement tool