Sobre o Wild Apricot
Wild Apricot is a cloud-based membership management system used by business and trade associations, chambers of commerce, nonprofits, charities, clubs and community organizations. It supports organizations from a few members to 15,000 members in size. With Wild Apricot's website builder, administrators can create both a public website and private pages for members and committees. Widgets—such as event calendars, public and private membership directories and donation forms—can be copied and pasted into the builder. Prospective members can submit applications through the website, while current members receive automated dues renewal reminders. Additionally, Wild Apricot's event management tools let managers create events; list them on the website along with a description, images and a custom online registration form; track which members sign up; and process payments. It can also send reminders and messages to members. Managers can view all member records to see membership status, event registrations, donations and more.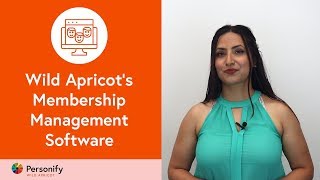 Wild Apricot possui uma versão gratuita e oferece versão de teste grátis. Versão paga do Wild Apricot a partir de 48,00 US$/mês.
Preço inicial:
48,00 US$/mês
Detalhes dos preços:
A 30 day free trial is available, after which Wild Apricot is priced as follows: Free: $0 for organizations with up to 50 contacts. Personal: $48/month for up to 100 contacts. Group: $60/month for up to 250 contacts. Community: $110/month for up to 500 contacts. Professional: $190/month for up to 2,000 contacts. Network: $350/month for up to 5,000 contacts. Enterprise: $420/month for up to 15,000 contacts. Global: $720/month for up to 50,000 contacts. All plans include unlimited admins, free SSL certificate, and support.
Versão de teste gratuita:
Sim
Alternativas para oWild Apricot
Avaliações do Wild Apricot
Setor: Design
Porte da empresa: 11-50 funcionários
Usado

Diariamente

durante

Mais de um ano

Fonte da avaliação
Relação qualidade/preço
4
---
Best solution for small to medium sized associations
WildApricot is an excellent solution for managing association memberships and websites. The solution includes basic eCommerce and the ability to build a website with the Wild Apricot CMS - you can also connect easily to other website tools. Members love the easy of managing their own profiles and the other features for member communications.
Vantagens
Easy of use, ability to customize the member database easily and the integrated content management system for a professional website.
Desvantagens
The software does not allow you to determine the membership ID within he system. This creates a challenge for any organization that already has a member number schema.
Razões para escolher o Wild Apricot
The database was antiquated and difficult to manage.
Razões para mudar para o Wild Apricot
Wild Apricot was the most cost effective tool for overall membership management and the creation of a members' website. The cost of the solution and the costs of transactions was best with Wild Apricot and the system offered the currently needed features as well as a host of features that will be used in the future.
Setor: Gestão de organizações sem fins lucrativos
Porte da empresa: Profissional autônomo
Usado

Diariamente

durante

Mais de dois anos

Fonte da avaliação
Relação qualidade/preço
4
---
Cost Effective Website and Database
Overall Wild Apricot is a great tool for associations and/or others who need to process dues payments, event registrations and keep up with your clients.
Vantagens
Wild Apricot makes it easy to process registrations for events, dues payments and store purchases in addition to being a website. It is very easy to use. There are user groups that you can join to get help from other users. Also, it is very easy to create a manual invoice for things that I might need a product for or a registration. There is also an app for administrators which is super convenient when to try to look up open invoices, etc. when away from the office.
Desvantagens
There are several features that should be available that are not. First and foremost there should be the availability within in the software to create a pdf and email it to contacts. The store does not appear to be integrated with the mail database and there are not a lot of reports. When I have orders from my store I have to constantly watch for duplicates. There is also not an email report to run that will search for possible duplicates in the system.
Razões para mudar para o Wild Apricot
StarChapter is very dated software and not at all user friendly. I also felt like my questions were not heard or they were determined to do things their way. MemberClick was outside of our budget.
Setor: Fabricação elétrica/eletrônica
Porte da empresa: 201-500 funcionários
Usado

Diariamente

durante

Mais de dois anos

Fonte da avaliação
Relação qualidade/preço
5
---
ECF..."Florida's Electrical Industry Leader"
Wild Apricot is the best thing that works for our association. We have used the platform for multiple associations in the past and from day one to now, it is the best solution out there for our organization at a price that includes great 'self-help' information and multiple choices when support from WA is needed.
Vantagens
Wild Apricot offers ECF an opportunity to create, modify and update our online software when needed, allowing our in-house staff to make necessary adjustments without having to spend association funds to hire programmers to complete the tasks.
Desvantagens
There is one item on our "Wish" list that we hope to see in the future. It would be nice to upgrade to a newer version of Excel or Word when exporting information. It's a small thing, but when you are trying to handle multiple lists for conversion to reports, etc., the first move is to save and rename the document based on the compatibility function. On a busy day, it's an added step that's time lost.
A 2nd wish would be for a bit more friendly e-mail design module. It works but can be challenging.
Setor: Gestão de organizações sem fins lucrativos
Porte da empresa: 11-50 funcionários
Usado

Diariamente

durante

Mais de um ano

Fonte da avaliação
Relação qualidade/preço
4
---
Not Customer Friendly
Our non-profit has approximately 1500 members we are managing and this was our first attempt at using a membership management tool. The implementation went well and our first year was generally positive. The features they offer are functional but pale in comparison to standalone services. For example the newsletter tool is extremely limited compared to our previous service, MailChimp, to the point where we are considering going back to MailChimp.
After the company switched owners recently, the customer service quality has dropped dramatically. A recent forced change of payment systems resulted in our members' automatic subscriptions being canceled without warning, which was not expected or documented. We tried to engage customer support prior to the change but they were not helpful at all. This will likely result in a loss of members and thus income.
Vantagens
It offers a large selection of features and can be a one stop shop for membership tools. Although most of the features are not nearly comparable to equivalent stand-alone services, they are functional.
Desvantagens
Customer support has been quite poor. They dropped telephone support in the last year and did not provide any guidance or assistance to us when they forced a payment system change that affected our members.
Razões para mudar para o Wild Apricot
Combination of price and features.
Setor: Gestão de organizações sem fins lucrativos
Porte da empresa: 51-200 funcionários
Usado

Semanal

durante

Mais de dois anos

Fonte da avaliação
Relação qualidade/preço
5
---
Flexible Program Does the Job
Having some way to keep our membership current and use the program for communication and registrations has been wonderful. We have been satisfied with its performance of these functions. We have not explored many of the newer features which have been added since we first started using this program. Some of them probably would be helpful, but we have not had the manpower with time to explore them enough to employ them.
Vantagens
The database for our membership and ability to use it to communicate with those members is most important to our organization. When we were holding in person meetings, the ability to register and pay for events was also important, but since we have not been doing that recently, that part of the program has not been used recently.
Desvantagens
We have found that we have not been able to use the renewal feature since renewals start with the local clubs and move up to the state organization instead of moving down to the clubs from the state. This means that we must manually update the database. We have explored trying a different method, but no change has been found that works for our members.