Sobre o QuickBooks Desktop Enterprise
QuickBooks Enterprise is an accounting solution designed for SMBs across different industry verticals such as construction, nonprofit distribution, manufacturing, and retail. With QB Enterprise solution, any business owner can expand business operations using advanced inventory, reporting, and invoice tools, in addition to premium support from Enterprise's CS and Payroll teams. Quickbooks includes inventory management, inventory tracking, expense tracking, payroll management, invoicing, multi-user management, advanced reporting tools, and more. QuickBooks Enterprise offers customizable reporting tools that help users analyze data and make informed business decisions. With over 200+ auto-filled templates and 70 industry-specific reports, this Quickbooks accounting software helps businesses find the QuickBooks data to solve any business issue. Quickbooks advanced inventory tools allow businesses to gain visibility and control over the inventory management process with the ability to track inventory movement, automatically scan and update inventory items, manage any purchase order/sales order from one dashboard, and plenty more. QuickBooks Enterprise also allows businesses to control, customize, and automate financial transactions with job costing tools, batch invoicing, invoice tracking, cash flow management, fixed asset tracking, sales tracking, payment processing, and more. Businesses also have to ability to scan and attach multiple documents including receipts and quotes for multiple accounting tasks. The tool enables businesses to arrange documents into categories and keep track of important accounting files. This solution also maintains a change log to record changes within each document with the proper date and time stamp. QB also offers different QuickBooks software such as QuickBooks Premier and QuickBooks Pro that includes include different functionality and features.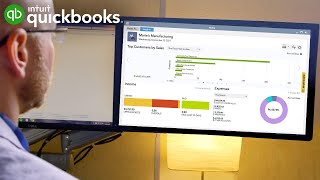 Preço do QuickBooks Desktop Enterprise
QuickBooks Desktop Enterprise não possui uma versão gratuita, mas oferece versão de teste grátis.
Preço inicial:
Sem informação do fornecedor
Versão de teste gratuita:
Sim
Alternativas para oQuickBooks Desktop Enterprise
Avaliações do QuickBooks Desktop Enterprise
Setor: Editoras
Porte da empresa: 2-10 funcionários
Usado

Diariamente

em

Mais de dois anos

Fonte da avaliação
Relação qualidade/preço
4
---
Worth the price tag
I started out learning QuickBooks on the desktop version for a previous job, and the software has come a long, long way since then. The online version is well organized, easy to use, and in the three years I've been using it I've never run into a single glitch.
Vantagens
QuickBooks online gives me one place to track everything related to money for my small business: income, expenses, taxes, and payroll. It's easy to set up and use, and I like knowing that even when I'm not paying as much attention to some of the bookkeeping as I should, it's still being tracked for when I have time to get to it.
Desvantagens
It's a little pricey and the help/FAQs aren't always that helpful, but those quibbles are greatly outweighed by how easy and useful it is.
Setor: Internet
Porte da empresa: 11-50 funcionários
Usado

Diariamente

em

Mais de um ano

Fonte da avaliação
Relação qualidade/preço
5
---
Great Value for the Price
Overall, my company has been happy with our switch to QuickBooks. We previously used Netsuite for our accounting software, but the subscription fees were outrageous and the features were difficult to manage and execute. QuickBooks offers what we need for a very reasonable price on a user-friendly format. I would definitely recommend this to small businesses who do not need a lot of advanced functionality.
Vantagens
The QuickBooks software is very affordable with lots of good out-of-box features. AR and AP functions are very easy to use for novice users of the software. There are a lot of templated reports that are very helpful for weekly and monthly accounting tasks (Payroll, Vendor Payments, Sales, etc.). The software also allows you to add on a variety of additional features through plug-ins, which you can access for a nominal monthly fee. For example, the BIll.com integration is excellent for paying your vendors online, eliminating the need for mailing out checks each month.
Desvantagens
The biggest issue with QuickBooks is their customer service department. Whenever we have issues that cannot be resolved by an internal administrator, it takes days and sometimes weeks before an Intuit rep returns our messages. We've been using the software a little over a year and have already been passed around to several different account reps. At one point, their response time was so poor I had to request a different rep. The other thing I find cumbersome with the software is the sales reporting. While the templates are helpful, I often end up with a lot of superfluous information, and the reports are not very malleable, even once exported to Xcel. This is an area I feel could be greatly improved with minimal effort from Intuit.
Setor: Hotelaria
Porte da empresa: 501-1000 funcionários
Usado

Diariamente

em

6 a 12 meses

Fonte da avaliação
Relação qualidade/preço
5
---
Easy book keeping
I needed something like Quickbooks for my enterprise
Vantagens
His moderately user friendly application is remarkable. Very maniable nterface for everyone. In spite of the fact that it has chosen stages to incorporate to, it actually functions admirably and works really hard with robotizing business and surprisingly my individual accounting records. I like the way detailing layouts for week after week, month to month, are there for usability, which can be modified further to suit my requirements. It's simple and helpful in light of the fact that it keep away from the human mistake of figurings with old technique for pen and paper, and surprisingly the improved ones of utilizing accounting pages and its partner applications. It is far superior with discretionary modules to make bookkeeping a stroll in the recreation center, that is for a little extra expense obviously
Desvantagens
Sometimes it is time consuming to learn new features
Setor: Suprimentos e equipamentos para empresas
Porte da empresa: 2-10 funcionários
Usado

Diariamente

em

Mais de um ano

Fonte da avaliação
Relação qualidade/preço
2
---
'Enterprise' Appellation Undeserved
The unfortunate fact is that a QB Company file can become corrupted at any time for numerous reasons, and once corrupted your primary option is to submit the file to the Intuit Data Recovery team, who inform you that their repair effort will take up to three (3) business days, during which time your business operations are effectively suspended. My advice is to consider carefully whether your business can recover from such a disruption before betting its future on QB as a business operations platform.
Vantagens
QuickBooks does a fine job with basic accounting functions, is relatively easy to use, and the report suite is more than adequate for small businesses.
Desvantagens
QuickBooks Enterprise Manufacturing & Wholesale version simply does not work as advertised, as two examples among many will demonstrate. QB offers 'Advanced Pricing' functionality which enables the user to define and apply pricing rules across their client roster and inventory items list. These rules are intended to allow the QB user to apply a 60% across-the-board discount for clients Ajax and AAA, while clients Acme and Consolidated receive that same discount plus custom pricing on items X, Y, and Z. However, after the pricing rules have been applied and those clients are being billed, changing the invoice or ship date results in the deletion of the shipping cost line-item, and changes to the pricing of items on the invoice. Research with QB support revealed that Advanced Pricing suffers from a bug that was known to Intuit for at least 1 month prior to when I invoked the Advanced Pricing functionality, and a full month later Intuit has been unable to remedy the bug. After invoking the 'Advanced Inventory' feature-set, which automatically creates a drop-ship warehouse site, I learned that product being purchased from a supplier and shipped directly to our client was being removed by QB from the count of physical inventory resident on our premises. Intuit tech support rep's response was (paraphrased) "That doesn't seem right, but I don't know much about Advanced Inventory - you should call back tomorrow morning, as the day-shift staff have more tenure and are more knowledgeable".
Setor: Segurança pública
Porte da empresa: 2-10 funcionários
Usado

Semanal

em

Mais de dois anos

Fonte da avaliação
Relação qualidade/preço
4
---
Advertising versus delivered
Overall, the software is very functional and user friendly. The extra steps that I use outside the software would be nice if they were integrated, but I have been doing them for the last 4 years, so it doesn't affect my routine. I like how quickly I can create an invoice if someone asks and I can fill in the blanks for tracking later without affecting my bottom line.
Vantagens
This software is very user friendly. Getting to individual accounts is easy and straight forward. The importing of bank records saves me a ton of time doing payroll and reimbursements each month. I can track all of the owner's businesses in one place without paying extra per company added.
Desvantagens
We opted for this version because of the PO tracking. The problem is, the PO's are not created by us. They are created by our customers so we can't actually use that part of the software that we paid for. I can still run reports and track project time and expenses, but I can't track a PO given to us and how much left to be billed. I still have to do that manually. It also doesn't integrate with T-sheets without renaming projects on one platform or the other. One is for my engineers, the other is for our customers tracking. The two do not use the same formatting.