Sobre o TalentLMS
TalentLMS is the LMS built for training success. Designed to get a yes from everyone, its where great teams, and companies, go to grow. With an experience thats fully customizable and easy to manage, teams embrace training while feeling right at home. TalentLMS makes it easy to provide the right training to any team and every use, while giving expert guidance and support every step of the way. On a mission to democratize training, TalentLMS already serves 70, 000+ teams worldwide.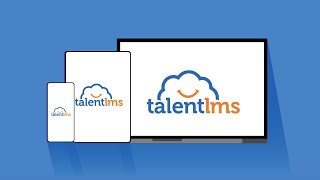 TalentLMS possui uma versão gratuita e oferece versão de teste grátis. Versão paga do TalentLMS a partir de 0,00 US$.
Versão de teste gratuita:
Alternativas para oTalentLMS
Setor: Design
Porte da empresa: Profissional autônomo
Usado

Diariamente

durante

Mais de dois anos

Fonte da avaliação
Relação qualidade/preço
5
---
this is perfect
Vantagens
é um produto de fácil uso, com uma interface inteligente
Desvantagens
existem poucas coisas, é algo que o tempo irá consertar com a experiencia dos desenvolvedores
Resposta de

Epignosis

Brenno, thanks for taking the time to review TalentLMS. It means the world to us!

Respondido em 19/02/2021
Setor: E-Learning
Porte da empresa: 1 001-5 000 funcionários
Usado

Diariamente

durante

Mais de dois anos

Fonte da avaliação
Relação qualidade/preço
0
---
Great way to manage courses
Overall it is a great way to access learning courses and keep them organized.
Vantagens
I like that you can organize courses into different sections. I like how you can see what percent each task is completed.
Desvantagens
One feature that would be nice is if the collapsible list feature stayed saved after logging off. When there are a lot of courses and folders to sort through, it is time consuming to have to collapse each list again to get to the bottom of the course I am currently working on.
Setor: Seguros
Porte da empresa: 2-10 funcionários
Usado

Diariamente

durante

Mais de um ano

Fonte da avaliação
Relação qualidade/preço
5
---
Great platform for creating a basic course structure that fits your training needs
Overall, TalentLMS has met our needs and allowed us to create a custom online course and expand the reach of our organization's education programs.
Vantagens
The product is pretty user-friendly, and if you are struggling with how to do something while creating/editing your course, you can easily find answers to most issues in the knowledge base.
I also liked the various types of content that can be added to a course. For example, I've utilized text, PDFs, Microsoft Word documents, images, videos, tests, surveys, web links, and more all in one single course - and I probably haven't even explored half of the available features!
Desvantagens
Working with a user's course expiration date can sometimes be tricky and could definitely use some improvement. For example, to change the expiration date for a user, logically I would go to the "Users" page, go to the user's courses, and extend the date there. Instead, you have to go to the course page, go to course content, go to course users, and extend it from there. Also, I've found that sometimes you can't extend a user's deadline without resetting their progress for the entire course. I haven't quite figured out why that happens.
I also think the navigation on the user's end could use a little clarity. An automated "course tour" would be beneficial.
Razões para mudar para o TalentLMS
An annual subscription to TalentLMS was less than half the cost of an annual Blackboard subscription.
Resposta de

Epignosis

Hi Alyssa, thank you for your insightful review of TalentLMS. We are glad to read that your experience has been a pleasant one and that you've been enjoying the variety of content you can work with on the platform. Regarding user navigation, lots of good think are coming out your way soon, keep an eye out!

Respondido em 01/06/2022
Setor: Serviços de Facilities
Porte da empresa: 1 001-5 000 funcionários
Usado

Diariamente

durante

Mais de um ano

Fonte da avaliação
Relação qualidade/preço
5
---
Don't buy into the hype. At best...it is only OK.
Frustrating...mostly because they are slow and unhelpful when dealing with technical issues.
Vantagens
It is inexpensive and intuitive to use. It is good for adding videos, articles, and quizzes within the LMS.
Desvantagens
I have had nothing but problems trying to get Articulate 360 courses to communicate course completion with this LMS. It works most of the time, but it still misses 15% or so of my users. Having over 2000 users, I cannot be hunting down everyone that did not show as completed, especially when they tell me they did it! Honestly, there have been a myriad of other technical issues that they cannot fix, or do not know how to fix. At this point I have to figure out if I just live with the limitations of their program, or go through the hassle of switching to a new LMS.
Alternativas consideradas
Docebo
Razões para mudar para o TalentLMS
It was cheaper.
Resposta de

Epignosis

Timothy, we are sorry to hear that you've encountered frustration with the responsiveness of support. Our Customer Support team strives to answer all queries in a timely manner (they currently have a 95% satisfaction score given by customers) and we find that the email ticket system allows us to ensure all queries are tracked and addressed in the most thorough way possible which is offered on all paid plans. We suggest you advise your support contact of your specific timing restrictions (including your timezone) and they'll do their very best to accommodate your needs. Thanks for your review!

Respondido em 03/01/2022
Setor: Banco de investimento
Porte da empresa: 51-200 funcionários
Usado

Diariamente

durante

Mais de um ano

Fonte da avaliação
Relação qualidade/preço
4
---
Effective platform for corporate training
Vantagens
It has the ability to enhance the training processes in my organization, virtually. It stands out for the possibility of creating virtual interaction environments suitable for each training process. It has the option of generating certificates with each approval of the training phases. The video quality of the training materials is excellent.
Desvantagens
This platform is very complete, but sometimes pop-up windows become a nuisance instead of helping. Its user interface can improve.
Resposta de

Epignosis

Thank you for your valuable feedback, Sthefany. It's great to read that TalentLMS has helped you enhance the training processes in your organization. About the UI, keep an eye out for some updates and improvements which are on our product roadmap for this year!

Respondido em 08/08/2022