Sobre o Clover
Clover POS is an integrated point-of-sale (POS) system with custom hardware designed for several types of retailers. This POS system is available in both web-based and server-based deployment versions and offers countertop hardware options, a mobile POS option, contactless payments, plus more. Clover Dining is the main POS app built specifically for restaurants. With the Clover POS system, businesses can streamline payment processing, sales, and inventory management, plus more. Clover can replace outdated processes involving a cash register, paper receipt printer, label printer, barcode scanner, plus others. Payment processing supports PIN and chip card payments, credit card swipes, Apple Pay transactions, and contactless payment types. Additionally, the Clover POS program integrates with QuickBooks, includes a time clock to track clock-in and clock-out times, and manages vendor maintenance and purchase orders. Hardware components offered include the countertop Clover Station, Clover Go card reader, Clover Mini POS station, the Clover Flex mobile payment processor, plus more. Additionally, the Clover App Market offers various solutions including gift card branding, marketing promotions, detailed analytics, online store integration, plus more. With the Clover POS dashboard, businesses can visualize key data metrics in real-time. Other features include order tracking, menu editing, and data reporting.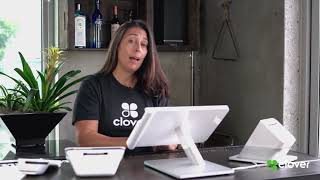 Clover não possui uma versão gratuita, mas oferece versão de teste grátis.
Preço inicial:
Sem informação do fornecedor
Versão de teste gratuita:
Sim
Alternativas para oClover
Setor: Hospitais e Saúde
Porte da empresa: 1 001-5 000 funcionários
Usado

Diariamente

durante

Mais de dois anos

Fonte da avaliação
Relação qualidade/preço
0
---
Use in my small businees
Clover has been an excellent option for taking payments in my stores.
Vantagens
My coffee shop uses clover devices as our POS system. The software is convenient and easy to place in a store. It features many apps that make it applicable to nearly any market. They also have many accessories- the main one we use are the receipt printers (small and regular size), the handheld tablet, and the customer interface screen.
Desvantagens
Over time the clover tablets do slow down. We frequently reboot them to rev up the speed.
Setor: Atacadistas
Porte da empresa: 51-200 funcionários
Usado

Diariamente

durante

Mais de um ano

Fonte da avaliação
Relação qualidade/preço
4
---
Customer Service
Trying to get the original set up support is terrible. You will spend hours on the phone on hold, then transferred to another line to start over waiting, only to be dropped and start over. I have had this experience every time we reactivate our machines. Billing is another issue. We use these on a seasonal and reactivation is a nightmare.
Vantagens
Nice user friendly once up and running.
Desvantagens
Inventory is hard to duplicate in all machines. When you download the template it has several errors when importing.
Razões para escolher o Clover
Update
Setor: Fabricação de alimentos
Porte da empresa: 2-10 funcionários
Usado

Semanal

durante

6 a 12 meses

Fonte da avaliação
Relação qualidade/preço
3
---
warning !!!!
Vantagens
Nothing to say.
Really disappointing
Cheap price, but no customer service and information is not real
Desvantagens
Attention
I have been doing business with clover for a year. It is said that payments that are taken during the day are deposited into the account the next day, however this is not always the case.
Yesterday, I received an email asking me to answer a form containing more than 15 questions, concerning the source of the funds. I was also asked to send my account statement, customer invoice and customer contact details.
72 hours later, the money is still blocked and I am told that it will be processed urgently without follow-up... in addition to being very uncomfortable to send all his information by email.
I've had a business for almost 4 years and have always used payment terminals, but I don't recommend Clover. Really disappointing service.
Setor: Saúde, bem-estar e condicionamento físico
Porte da empresa: 51-200 funcionários
Usado

Diariamente

durante

6 a 12 meses

Fonte da avaliação
Relação qualidade/preço
4
---
Simple to set up and configure. Simple to use. Flexible reporting options. Decent Support.
Clover simplified payment processing for us with easy to use devices and flexible reporting options.
Vantagens
Our overall experience has been great. The Clover portal is simple to set up and devices are easy to configure. Clover devices are wireless and easy for staff to use, with good user level security and flexible reporting options. We have had no issues with the devices or the service since going live.
Desvantagens
If there is any WiFi interferance the devices can disconnect from the internet and prevent payment processing, this is not a Clover issue though.
Setor: Varejistas
Porte da empresa: 2-10 funcionários
Usado

Diariamente

durante

Mais de dois anos

Fonte da avaliação
Relação qualidade/preço
4
---
Could be incredible, but appears to be more geared toward restaurants instead of retail
It's been okay. When something goes wrong, there can be a lot of runaround from different techs. There is a support number that we have to contact for technical issues, a different one for banking issues, and a third for issues with certain settings within the system. It would be helpful if there was one tech support contact instead of three. The main tech support doesn't usually seem to be very knowledgeable, and have to reach out to a specialist to figure out how to help most of the time.
Vantagens
Clover itself wouldn't be much more than a payment processing system if it wasn't for the many apps that you can add to make it work for your business. The catch is, most of the add on apps cost a monthly fee. The option to have these apps make Clover incredibly customizable to fit exactly what you need for your store. Overall, we still saved money switching to Clover from our previous company.
Desvantagens
The software seems to be geared more toward the restaurant industry. When we got it, we did so because it was supposed to be for all retail. We likely would not have gone this route if we had known what we do now, but we have made it work for a retail setting with the help of certain apps.