Sobre o Thryv
Thryv is an all-in-one business management solution designed to help small businesses with essential business functions. With Thryv, business owners can expand their online presence, improve any customer relationship, and streamline payment processing. Features include an integrated CRM system, appointment scheduling, billing and invoicing, contact management, marketing automation, reputation management, social media management, automated reminders, and more. As a cloud-based marketing and CRM software solution, Thryv helps any small business owner manage interactions with their clients, run marketing campaigns with email marketing and manage activities on various social media platforms such as Facebook, Instagram, Twitter, LinkedIn, and Google+. The solution also features an appointment booking module that enables users to manage team schedules, synchronize calendars, and book appointments from a single location. Additionally, Thryv features a payment module that helps users to send customized quotes, estimates, and invoices to clients and accept payments via credit card. Thryv integrates with multiple third-party applications such as QuickBooks, Gmail, Slack, MailChimp, Yelp, and more and also offers a mobile app for iOS and Android devices.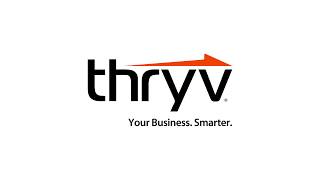 Thryv não possui uma versão gratuita.
Preço inicial:
Sem informação do fornecedor
Versão de teste gratuita:
N/D
Setor: Gestão da educação
Porte da empresa: 11-50 funcionários
Usado

Diariamente

durante

6 a 12 meses

Fonte da avaliação
Relação qualidade/preço
5
---
Great Product Great Support
enrollment for our school and engagement for our families
Vantagens
I liked the integration of the system with all of our functions Additionally, the support from our teams at Thryv has been phenomenal Love this product and this group!!!!
Desvantagens
I am pleased with the software cannot think of anything
Resposta de

Thryv

Hi Maher, we are glad to hear that Thryv was easy to integrate and makes your day-to-day run smoother. As you know, anytime you need assistance, feel free to call our 24-Hour Thryv Support line at 844-998-4798. - Gabe

Respondido em 30/04/2021
Setor: Construção
Porte da empresa: 2-10 funcionários
Usado

Outro

durante

Mais de dois anos

Fonte da avaliação
Relação qualidade/preço
1
---
Poor Customer Support, still withdraw full price from your account even though they said not
I had to reach out to their [SENSITIVE CONTENT HIDDEN] about 1+ years ago in order to get my website fix because they keep on pushing from one team to another. I have been frustrated with their unprofessional customer services since 2017 and I'm about to send another email to the [SENSITIVE CONTENT HIDDEN] about this ridiculous charge of $199. This is a scam and rip-off from their customers who decided to leave.
Vantagens
If you have a full-time staff to use this software to run your business then it should be okay.
Desvantagens
1. You need to constantly check your website because you know when they mess it up to become a blank page. You will not get an easy resolution from their CSR without a request to speak with the manager.
2. If you terminate the agreement earlier then they hold you accountable to pay them until the term expired. On the other hand, when the term is expired and they continue to charge you month-to-monthly without giving you the courtesy email to let you know about the term being the change.
3. I was 3 or 4 days into the new month and request to terminate because my contract has been expired for I don't even know how long. [SENSITIVE CONTENT HIDDEN] promised me that she will wave the 1-time pro-rate fee that give me the weekend to retrieve all the emails that I need and forward it to my Google account. That was a lied and on Monday I got charge for the full-price $199. I have appeal with my bank and call Thryv, they have the nerve to tell me that they are not going to refund the charge. If you are looking then stay away from Thryv.
Resposta de

Thryv

Hey Jenny! Very sorry for all the trouble! I sent your concerns over to our Client Care Escalations team! They'll be getting back to you as soon as possible! Please let us know what else we can assist you with. -Chandlor

Respondido em 20/04/2020
Setor: Construção
Porte da empresa: 2-10 funcionários
Usado

Diariamente

durante

Mais de um ano

Fonte da avaliação
Relação qualidade/preço
5
---
Ricky Smith Roofing
receiving all calls and written messages. Not only are they on our Thryv software but we also receive personal emails alerting us to messages. We love that this program even offers payments options.
Vantagens
I have enjoyed this marketing agency more than any other I have ever used. I was paying for four different agencies to what Thryv does for me all in one.
Desvantagens
We haven't had any problems with our software.
Resposta de

Thryv

Hi Ricky, thank you for the 5-star review. Excited to hear that Thryv has been able to consolidate all of your other agencies to one platform. Whenever you need assistance, please call our Free 24-Hour Thryv Support line at 844-998-4798. - Gabe

Respondido em 08/07/2021
Setor: Serviços meio ambientais
Porte da empresa: 2-10 funcionários
Usado

Diariamente

durante

1 a 5 meses

Fonte da avaliação
Relação qualidade/preço
5
---
A Huge Help for Small Businesses
Thryv launched my company and helped me grow to a place where I needed more specific software to meet my growing needs. I couldn't have imagined a better way to launch my business.
Vantagens
I love how Thryv puts all the major pieces of software automation for a small business into one location that is easily accessible via a web browser or app. For small business owners who also work in the field, the Thryv App is critical to continue switching out the technician and manager hats.
Desvantagens
Thryv is a great piece of software but, because it is built for a generic audience, lacks features necessary for some specific industries. For me in pest control, there are a lot of pieces of Thryv that would make me want to use it as my primary system; however, because it is missing a couple critical pieces of data that I need to collect (like weather when we are spraying and pesticides we apply), I needed to buy another system which I use more than Thryv.
Resposta de

Thryv

Hey Garrett, thank you for your feedback, we are excited that you are enjoying Thryv! Our team is always open to feedback. On your Thryv dashboard, you'll see the feedback button in the bottom right-hand corner. Let us know what you would need to make the system work for your industry. We look forward to hearing your ideas.
- Gabe

Respondido em 28/08/2020
Setor: Seguros
Porte da empresa: Profissional autônomo
Usado

Diariamente

durante

1 a 5 meses

Fonte da avaliação
Relação qualidade/preço
5
---
THRYV is helping my business grow
Thryv and the staff has been amazing in helping me get my small business off the ground (during a ppandemic!). Every day I learn something new. I believe it is going to further assist in growing and maintaining my business.
Vantagens
Thryv is easy to set up and use. The training and customer service are the best I have found. They are very attentive, even reaching out to me to make sure I am getting the most from my system. I am so pleased that I can post to ALL my social media sites at once and set up my posts for the future. I am pleased that my birthday greetings are also automated and that I can schedule special "announcments" and campaigns.
Desvantagens
There are some functions that I don't use in my business and I feel they clutter my dashboard.
Resposta de

Thryv

Hi Neta, thank you for this review and for making our day! We are proud to hear that the Thryv software and team are helping you with your business. We always say it is the little things that impress your customers and the automated birthday shoutouts put that extra little touch to connecting with them. Whenever you need assistance, please call our Free 24-Hour Thryv Support line at 844-998-4798. - Gabe

Respondido em 30/04/2021