Sobre o EngageBay
EngageBay is an integrated marketing, sales, support and CRM solution designed to help small to midsize enterprises acquire, engage and convert website visitors into customers. The cloud-based platform lets businesses use marketing tools to build relationships with customers and retain them for a lifetime. Features of EngageBay include email marketing, landing pages, live chat/helpdesk, ticketing, telephony, appointment scheduling, contact management and more. It comes with a built-in CRM, which allows firms to manage and track all activities across customers, leads and deals as they proceed through pipelines. Additionally, it provides marketing capabilities for users to generate leads through automated email templates, customizable forms/popups, social media engagement and more. EngageBay enables businesses to use Zapier and Xero integration to connect the platform with several third-party applications such as Salesforce, Intercom, MailChimp, Hubspot and more. Pricing is available on monthly subscriptions and support is extended via documentation, phone and email.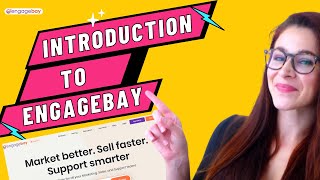 EngageBay possui uma versão gratuita e oferece versão de teste grátis. Versão paga do EngageBay a partir de 10,79 US$/mês.
Versão de teste gratuita:
Alternativas para oEngageBay
Setor: Materiais de construção
Porte da empresa: 2-10 funcionários
Usado

Semanal

durante

1 a 5 meses

Fonte da avaliação
Relação qualidade/preço
5
---
Near perfect combination of CRM and Email marketing tools
An interesting and good solution for our needs. The user interface is clear and easy to understand and use. workflow is easy to understand and follow.
Vantagens
It's much simpler when You have a good defined and flexible CRM with an Email marketing tool as one service. CRM is especially good and informative, designed mostly for returning clients.
Desvantagens
Email builder should be better. The campaign dashboard is good but can be improved. Technical support is too pushy and offers things and options that are not needed.
Razões para mudar para o EngageBay
Moosend has several good options but they started to make some changes and increase prices.
Setor: Fabricação elétrica/eletrônica
Porte da empresa: 2-10 funcionários
Usado

Diariamente

durante

Mais de um ano

Fonte da avaliação
Relação qualidade/preço
5
---
great value for money software
Its good
Vantagens
It is a comprehensive system that is easy to use, and if the get a problem the help guys are really good
Desvantagens
I just would like to have the ability to change the user view so that I can have one time quick view and I would love to link Skype
Razões para escolher o EngageBay
I had used act for 30 years from version 2, but they started to change it from a good CRM system into a moderate marketing system
Setor: Aviação e aeroespacial
Porte da empresa: 2-10 funcionários
Usado

Diariamente

durante

1 a 5 meses

Fonte da avaliação
Relação qualidade/preço
0
---
Engagebay
Vantagens
The customer service is spot on. If you need help, you send a message in the chat and they get back very quickly, with the answers to your problem. If they don´t have the information or they don´t have something that you are looking for they are straightfoward and let you know.
Desvantagens
I wish there were better ways to track touches to prospects. You can make tags and filters, but there´s no ¨pretty & organized¨ platform in the software that allows you to keep track and view what you have done or need to do (followups) etc.
Setor: Serviços e tecnologia da informação
Porte da empresa: 11-50 funcionários
Usado

Diariamente

durante

1 a 5 meses

Fonte da avaliação
Relação qualidade/preço
5
---
Brilliant all-in-one package
Connected sales and marketing platform has resolved manual intensive activity scheduling. No need to import a new list each month into a separate email marketing platform. Being able to have contacts in multiple list and sophisticated tagging is brilliant. The guys at EB are really helpful with speedy responses, providing video and screengrabs to help. The best experience i had was when i recommended that there should be a report on the dashboard for forms, a couple of weeks later i had an email from EB letting me know that they'd developed the report and added this to the dashboard - couldn't ask for a better service.
Vantagens
A complete package for connected sales and marketing and data and reporting in one place. Previously had a separate CRM system from email marketing platform and as such no integration and ability to see what marketing had gone out to what contact and their response to that, all activities and follow ups were all manually scheduled this has been resolved with EB. Customer service and support is fast and efficient too.
Desvantagens
Had an issue at first setting up the smtp integration with the correct configuration as we wanted to send mailers using our own email servers, took some backward and forwards between technical teams but was resolved in the end. Being able to email from multiple email addresses is great but I also would love it if we could have multiple email signatures attached to a single user too.
Razões para mudar para o EngageBay
it offered all of the functionality at an affordable price. The only one that would've done everything EB does was hubspot however because we had multiple domains for each of our product this meant hubspot required us to pay for x 2 marketing and sales hubs which wasn't the way we wanted to use the platform nor within our budget.
Setor: E-Learning
Porte da empresa: 2-10 funcionários
Usado

Diariamente

durante

6 a 12 meses

Fonte da avaliação
Relação qualidade/preço
5
---
Superior CRM!
My experience with EngageBay has been better than expected. Customer support had been lacking from my previous CRM products and services. EngageBay customer support has been outstanding!
Vantagens
Email sequencing is very important to my business. EngageBay provides a very robust email sequencing product.
Desvantagens
It is not as intuitive as I would like but customer service is very quick to respond to online chat requests.