Sobre o Agile CRM
Agile CRM is a cloud-based customer relationship management (CRM) solution designed for small and midsize businesses. It offers contact management, telephony tools, appointment scheduling, marketing automation, project management, a landing-page builder and knowledge base functionalities. The contact management module lets users record and access customer data such as contact information, interaction records, social-media accounts and lead scores. The software also offers email integration, which allows users to sync data with email services including Gmail, Microsoft Exchange and Office 365 and IMAP services. Users can track website visitors to analyze customer behavior, and marketing automation tools help users create marketing workflows with a drag-and-drop interface. Users can also send automatic reminders based on time and contact options. Agile CRM also includes task management functionality. Users can drag-and-drop tasks in lists, sort tasks, add notes and update task status. Social media integrations allow users to publish and respond to posts on social channels such as Facebook, LinkedIn and Twitter. Pricing is per user per month. Phone and email support is available.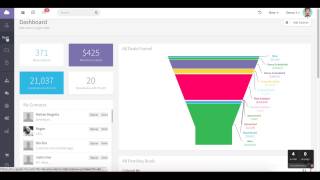 Agile CRM possui uma versão gratuita e oferece versão de teste grátis. Versão paga do Agile CRM a partir de 0,00 US$.
Versão de teste gratuita:
Alternativas para oAgile CRM
Usado

Diariamente

durante

Mais de um ano

Fonte da avaliação
Relação qualidade/preço
5
---
Agile CRM is a Great First Step into the CRM World
Vantagens
I used this platform for a solid year and put in hundreds if not thousands of contacts into this CRM. I liked how many categories there were to define a lead or a contact, the system that you set up to see how much potential revenue you had to win based on your leads was helpful, and the price is unbeatable. I mean truly, you can use this platform for free for up to 50,000 contacts. That's pretty amazing.
Desvantagens
There's a reason why I call this particular platform a good "first step." Agile CRM says it offers marketing automation, gamification, and project management - but this is a far from complete product. In the free version you can only create so many marketing automation blocks before it makes you pay, but even if I did upgrade I'm not sure the platform could handle the sales process I wanted to have set up. Something else to mention about this platform is there customer service. I'm fairly certain the CEO is their only customer service rep. Every time I had a problem with the platform (roughly 1-2 times a month) it was the same man who picked up the phone - and when my problem was solved he made me delete the Tweet I sent out when I asked for help, and then made me publicly thank him. I found that very strange. Overall you should try this platform out if you're just starting out, but upgrade to something like Infusionsoft if you're really looking to up your game.
Setor: Gestão da educação
Porte da empresa: 2-10 funcionários
Usado

Diariamente

durante

6 a 12 meses

Fonte da avaliação
Relação qualidade/preço
5
---
All I need to work in one place
The biggest benefit that this software has given me has been to optimize everything that has to do with the world of sales and marketing, generating the reports I need to demonstrate in the company how useful our strategies are, what aspects to improve, and generate our own leads, all in a very organized way and as its name says "agile".
Vantagens
I started working with this platform a little less than a year ago. My job consisted (and still is) in generating leads for the company and developing marketing and sales campaigns from scratch.
Agile CRM has been fundamental, since it integrates perfectly with everything I need. I have my contacts in one place, which I can follow very easily. Its greatest strength is the ease of use and integration with multiple tools. Something as simple as managing notifications and alerts make the most of my time and organize my agenda in a practical way.
I can generate reports where the effectiveness of the different strategies is established. For example, the result of phone calls, mail campaigns, newsletters, and more.
I was able to import all the contacts in a very simple way and clean my list in a short time.
Another great thing: the mobile app and the possibility of integrating with other programs. Today I have it integrated with Bria and Skype, also linkedin and facebook. Everything in one place, is the most practical CRM platform that someone like me (who has just started and was analyzing options) has found, and I´m very satisfied with this software.
Desvantagens
I think it would be convenient that in the future they made some training videos to explain how to correctly configure the automation tools, since I think it has been the most difficult to understand.
Setor: Contabilidade
Porte da empresa: 2-10 funcionários
Usado

Diariamente

durante

Mais de um ano

Fonte da avaliação
Relação qualidade/preço
5
---
Great software
Nothing short pf amazing.
Vantagens
It's a product that offers practically everything, but at a considerably more affordable price. The product is generally simple to use, and I appreciate how easily automations can be set up.
Desvantagens
In my perspective, the normal bundle ought to have been less expensive. Other than that, I don't find any criticisms of this sort.
Setor: Redação e edição de texto
Porte da empresa: Profissional autônomo
Usado

Mensal

durante

6 a 12 meses

Fonte da avaliação
Relação qualidade/preço
2
---
Started off working fine, then started having problems
Agile would have been an adequate CRM/marketing automation system if not for the limitations on automation and the bugs that the company left up to the customers to find and then work around.
Vantagens
Liked the ability to tag and segment contacts, make bulk updates, etc.
Desvantagens
The amount of automation is limited. Cannot develop a long-range program without running into the limits on "nodes" per sequence or number of sequences. Especially when lead-scoring based on activity requires a node. Eventually cancelled when program bugs resulted in not being able to send bulk emails without manually splitting them into groups and sending a small amount per day. After two months of this, we gave up.
Setor: Serviços e tecnologia da informação
Porte da empresa: 11-50 funcionários
Usado

Diariamente

durante

Mais de dois anos

Fonte da avaliação
Relação qualidade/preço
4
---
Agile - More than just CRM
With an enormous set of automated tools and processes, using Agile has become absolutely essential to our operation. Potential sales are monitored along with KPIs and success rates. Another aspect I personally appreciate is that dashboards are modular/extendible, allowing me a complete overview of everything that matters to my work at a glance.
Vantagens
Having all our tools unified in one system, all our databases automatically completed and maintained, all interactions logged, and all processes tracked - has made Agile CRM the foundation of every department in our establishment. Given the price point over functionality and support, there is simply no alternative to Agile.
Desvantagens
Although it would be difficult to find fault with Agile on the surface, Agile CRM lacks integration with a few niche APIs we happen to use.
Razões para mudar para o Agile CRM
Agile CRM was somewhat cheaper at the lower price point for SMBs, and offered greater functionality.