Sobre o CANVAS
Canvas LMS from Instructure is a cloud-based learning management system (LMS) specifically designed for K-5 on up through higher education institutions. Canvas LMS is a scalable platform that can be used by educational institutions of all sizes and types, from individual classrooms to large universities to companies with a blended or fully virtual learning environment. The Canvas platform offers complete LMS functionality for online learning including standards-based grade books, customizable student assessments, course content authoring, mobile communication, plus more. Canvas LMS can integrate with an educational institution's existing SIS and other teaching tools. Additionally, the Canvas App Center offers mobile-ready teaching tools that can add new functionalities to the platform. Over two hundred different LTI tools allow educators to customize courses and monitor engagement with classes or individual students. Canvas also offers native mobile apps for iOS and Android devices, allowing educators, students, and parents to view key information, share and receive updates, or submit results from anywhere at any time. With these tools, Canvas LMS offers comprehensive, high-quality mobile learning experiences.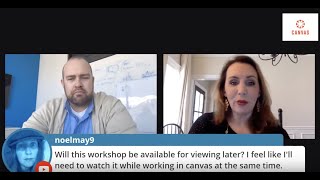 CANVAS possui uma versão gratuita e oferece versão de teste grátis.
Preço inicial:
Sem informação do fornecedor
Versão de teste gratuita:
Sim
Alternativas para oCANVAS
Setor: Organização cívica e social
Porte da empresa: 51-200 funcionários
Usado

Diariamente

durante

Mais de um ano

Fonte da avaliação
Relação qualidade/preço
5
---
Canvas LMS é uma poderosa ferramenta para cursos e aulas on line.
A pandemia fez com que tivessemo que ficarmos afastados das nossas atividades para evitar a disseminação do Covid 19. Mas com o Canvas essas situação pode ser de certa forma sanada, por que pudemos continuar a ministrar as aulas e cursos para os Aprendizes, que de casa continuam o seu processo de formação. O Canvas é a melhor ferramenta para cursos e aula on line sem sombra de dúvidas
Vantagens
Facilidade de uso, adaptação ao diversos tipos de dispositivos, disponibilidade para uso em qualquer lugar, muito intuitivo. Com a pandemia o Canvas está sendo utilizado por nossa organização para aulas e cursos on line para os nossos aprendizes. A ferramenta é eficaz e muito estável, fazendo com que os aprendizes e os instrutores possam interagir como se estivessem em sala de aula física
Desvantagens
Falta opções para personalização, e conexões com pouca estabilidade demora um pouco para os vídeos carregarem
Setor: Química
Porte da empresa: 11-50 funcionários
Usado

Semanal

durante

6 a 12 meses

Fonte da avaliação
Relação qualidade/preço
5
---
Canvas para estudo
O Canvas é um ótimo software para utilizar nos estudos, ajudou muito na minha formação profissional, nesses dois ultimos anos de pandemia, fiz praticamente todas minhas atividades e aulas utilizando ele e foi de grande ajuda. Muito prático.
Vantagens
Muito prático para utilização no dia a dia uma plataforma adaptável e confiável que permite auxiliar no sistema de aprendizado educacional. Facilidade na utilização.
Desvantagens
As vezes quando estávamos tendo aulas pelo CANVAS travava um pouco, mas acho que isso vai muito da internet que o professor esta utilizando no momento da aula. Demora um pouco para o carregamento dos vídeos também.
Setor: Design gráfico
Porte da empresa: Profissional autônomo
Usado

Semanal

durante

Mais de dois anos

Fonte da avaliação
Relação qualidade/preço
5
---
Canvas Review
Being a university student I didn't have the full scope of Canvas from the uploading perspective but it allowed me to look at whatever was submitted for our review, download files, check grades and upload homework. As far as a virtual classroom goes this was a slick and useful program in academia with no hassle involved.
Vantagens
The software experience was as a student in college or university as opposed to a teacher. From my end everything worked seamlessly to give us classroom assignments to do at home. We could turn in documents and essays and even do online testing. I was always able to navigate the Canvas portal and from what I understood my teachers had little stress in uploading work for us.
Desvantagens
There wasn;t anything I'd call a major problem with Canvas. Obviously it will have some features beat out by more commonplace methods, such as email instead of an internal messaging system.
Setor: Gestão da educação
Porte da empresa: 501-1 000 funcionários
Usado

Diariamente

durante

Mais de um ano

Fonte da avaliação
Relação qualidade/preço
5
---
Review on Canvas
As a user of 2 years and counting, I am very satisfied with my overall experience with Canvas and am very likely to share it with others. It is software that will continue to be used in the future; it's a major improvement to online learning.
Vantagens
This software is very well organised with minor issues. I think as a user of 2+ years, I am extremely satisfied with the software. Although there are some minor improvements to be made, I believe that this software is the future of remote higher education.
Desvantagens
I think my major complaint about this software would be the fact that hiding and/or deleting certain courses' cards/lists isn't an option. When one year is over and another begins, half of the courses still on my dashboard can be considered clutter and are no longer needed. I think another feature that would make organising easier is editing the name of the course on my dashboard. Organisations usually title their courses in the same format with minimal changes which does make it harder to differentiate from one another. Adding subtle features that allow for personalising your dashboard without compromising the content of the courses would be helpful, I believe.
Setor: Design
Porte da empresa: 10 000+ funcionários
Usado

Diariamente

durante

Mais de dois anos

Fonte da avaliação
Relação qualidade/preço
4
---
Canvas Review
I think Canvas is very powerful and it keeps my courses organized but it has a learning curve. I'd recommend training your employees instead of hoping that they figure Canvas out on their own because it can turn into a mess.
Vantagens
I like that I can keep track of all of my courses and tasks.
Desvantagens
I don't like all of the notifications. Some of them are useful like the ones that warn you about deadlines but others are just plain annoying and useless and clutter your dashboard.