Sobre o BigChange
BigChange is the complete cloud-based Job Management Platform bringing customer relationship management (CRM), job scheduling, live tracking, field resource management, financial management and business intelligence into one easy to use cloud-based platform. BigChange helps field service businesses across the UK to win more work, increase the capacity of their teams, accelerate invoicing & transform cash flow, all whilst reducing operational costs and admin time. Additionally, with easy-to-use integrations with Sage, Xero, Quickbooks & other accounting softwares, BigChange seamlessly integrate your accounting. Loved by office and field teams alike, our customers are achieving industry leading growth and return on investment. The BigChange team is committed to customer success and no matter your sector or whether you have a mobile workforce of 10 or a 100, we're here to make a big difference to the way you work and to help your business grow stronger.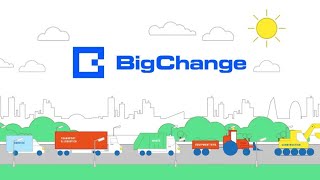 BigChange não possui uma versão gratuita nem versão de teste grátis. Versão paga do BigChange a partir de 69,95 £/mês.
Preço inicial:
69,95 £/mês
Versão de teste gratuita:
Não
Alternativas para oBigChange
Setor: Varejistas
Porte da empresa: 1 001-5 000 funcionários
Usado

Diariamente

durante

Mais de dois anos

Fonte da avaliação
Relação qualidade/preço
4
---
Working with Big Change
See less, it's like the solution has integrated well and forms part of our day to day operating model.
Vantagens
I think the best element of this product is that's it very versatile as it allows you to design it around your current operation. Also the team are constantly releasing useful updates, some of which make life a little easier and some offer productivity gains.
Desvantagens
There nothing really that's bad here, any elements that were hare to navigate are constantly being updated to make them as user friendly as possible.
Resposta de

BigChange

What a great review - we are thrilled to hear how pleased you are with your system and benefit from our regular new system updates. BigChange is indeed a very versatile system and we are happy to be part of your operating model.
Thank you for choosing BigChange.

Respondido em 05/11/2020
Setor: Construção
Porte da empresa: 11-50 funcionários
Usado

Diariamente

durante

Mais de dois anos

Fonte da avaliação
Relação qualidade/preço
4
---
Big Change Revolutionised My Business
I have dealt with all levels withing the business and found 99% of the people amazing to deal with! They have guided, trained and been far more accommodating then any other mobile resource software provider out there.
Vantagens
The facility to invoice live and make cash flow through the business improve.
Desvantagens
The schedule does not have dynamic scheduling
Razões para escolher o BigChange
How they promised they would adapt to suit my requirements, they did deliver!
Razões para mudar para o BigChange
Same as above!
Resposta de

BigChange

Delighted to hear about your amazing experience with the BigChange system. We designed it to be 'Revolutionary' for everyone, for you the business owner, for your team for your customers and your cashflow. Nothing gives us more satisfaction than hearing great success stories like this.
Thank you once again for taking the time to leave a review.

All the best,
Team BigChange

Respondido em 28/10/2019
Setor: Segurança e investigações
Porte da empresa: 51-200 funcionários
Usado

Diariamente

durante

Mais de um ano

Fonte da avaliação
Relação qualidade/preço
5
---
Apardion Review - August 2022
So far Big Change has helped us reduce our paper usage, allows our resources to provide more information for all jobs. Any changes to any reports can be carried out much easier as we used to use paper copies of reports. Big Change has helped us save a lot of time on a daily basis.
Vantagens
System is suitable for many different types of jobs our company require on a daily basis. Schedule a job cannot be easier, likewise to edit a scheduled job is quick and simple.
Desvantagens
Can be rather difficult to set up CRM or jobs with many different settings, different features such as job types, job categories and templates are needed to set up a job, which can be time consuming or complicated for new users to remember.
Resposta de

BigChange

Hi Hannah

Thanks for leaving us such a great review, we value each one of them equally but its always wonderful to see our customers getting so much value from BigChange. Job scheduling is at the core of what we do so its great to see that its so easy to use and that the system has allowed you to reduce your paper usage. We are Big on sustainability and helping our customers to do the same is a key part of our product offering.

Most importantly you are seeing the benefits of saving time every day and it's a pleasure for us to see our customers grow stronger using BigChange.

If you would like any further help with the system, I would be happy to connect you with your Customer Success representative.

Many thanks

Ian Burgess
Chief Customer Officer
[email protected]

Respondido em 26/08/2022
Setor: Construção
Porte da empresa: 11-50 funcionários
Usado

Diariamente

durante

Mais de um ano

Fonte da avaliação
Relação qualidade/preço
2
---
If you are an existing company and you take on this product, expect a disappointing Big...
You are expected to do all of the onboarding with little or no support.
My team are unimpressed with my decision to use Big Change and we have reverted back to our original CRM system Podio by Citrex a far superior product.
Vantagens
Sales reps are likeable and extremely helpful.
[SENSITIVE CONTENT] in customer services is a good guy but he must follow through on what he saw and understood when we asked him to come and visit us to see the issues we were having.
Desvantagens
The product is only fit for a one trade business- the sales reps will say yes to all your questions without ensuring their answers to be true
Our IT engineer worked on the installation and onboarding full time and was not given the promised support from Big Change
We lost three members of our team, who jointly made a major mistake due to failure of linking separate trades within our organisation.
You will be charged for everything and there are extras on every turn you take.
Resposta de

BigChange

Hi Terry

We also pride ourselves on honesty and integrity and I am familiar with some of the points you have raised to the team around some of the additional things you would like BigChange to be able to do. We are always keen to work with customers directly hence our visit to you and your teams back in March. It is important that we listen to customer and act and I am aware that after the meeting we offered to help document the items you mentioned in an improvement plan but that was not something you were keen on at the time. We have a large customer base who are getting incredible value from BigChange and we remain focused on helping all of our customers to gain more and more value from the platform. We would love to spend more time with you and your team and help you to get that value from BigChange to help your business.

Many thanks

Ian Burgess
Chief Customer Officer

Respondido em 17/08/2022
Setor: Construção
Porte da empresa: 2-10 funcionários
Usado

Diariamente

durante

1 a 5 meses

Fonte da avaliação
Relação qualidade/preço
3
---
Big Change - Good System once you get the hang of it but hard to learn and quite time...
I am feeling better about it now but initially this is very hard for anyone to set up within a business that has their own job that they also need to do. The short videos take forever as you need to rewatch, then you have your test and then you have to try and Implement what you have just watched. If you forget a part of it or it doesn't make sense you have to go back to the video again. Very Hard Work and Extremely time consuming. What would be better is that everything is set up in the back office by big change and then training is provided to the customer on how to use it.
Vantagens
I like the Scheduling feature once the jobs are on. Very easy to schedule and reallocate jobs when you need to.
I also like the Easy Views - This is one of the most helpful sections of the system.
Desvantagens
Having to create a Customer site (Child Company) for every new job you get and then creating a new job especially when you may never work at that site again. would be much easier quicker and convenient if you could free type the site address in.
The training side of it I have to admit is awful. It has taken me so long to get where I am now and most of that has been my time sat playing around with the system - The training videos are too fast, it skips parts out or assumes you know where exactly you are meant to go on the system to do or find something, or it says this part will be covered in another module. A guide for logging a customer - Guide for Logging a Customer Site - A Guide for inputting a job - A Guide for raising an Invoice would be so much better than trying to watch a video take notes and then try and remember how to do it, Esp as customers are expected to input and set up everything virtually within the system.
MAPS - It would be helpful if it would advise how many miles away the engineer is until he reaches his destination.
JOBS / INVOICES - Once the Jobs or Invoices are complete you can't amend any of the details this is very annoying as you are having to duplicate everything and then save any pictures etc and worksheets and move them over to the next one. ALSO the description you type when raising the job. If you make a spelling mistake and the Job is complete you can't correct this field - This is then on the customers Invoice.
Resposta de

BigChange

Hi Vicky,

Thank you so much for taking the time to leave a detailed review. I am glad that you are making use of BigChange and if you need any further help please let me know and I can have your designated Customer Success representative can help.

Many thanks
Ian Burgess
Chief Customer Officer
[email protected]
07879 698697

Respondido em 04/08/2022