Sobre o SimplePractice
SimplePractice is a cloud-based practice management system built to make the business side of private practice easier. Our easy-to-use and HIPAA-compliant software helps health and wellness professionals automated their day-to-day processes like scheduling, payment processing, documentation, and more. Key features include free, unlimited appointment reminders, insurance claim management, online appointment requests, and a Client Portal to simplify client communication. Send paperless intake forms through the Client Portal—making it easy for your clients to review, sign, and make payments all in one place. Use the online appointment requests feature to let clients request a time that works for them. From there, you can approve or deny any request. Once your appointments are scheduled, reduce your no-shows by sending free, unlimited voice, text, and email reminders to all your clients. The integrated telehealth platform allows you to see clients from anywhere, with no extra logins or links. Streamline your note-taking process with the robust template library, or create your own templates to spend less time on paperwork and time in sessions. You can load your preview notes, make any edits, and then lock and sign your note, and you're done! Now you don't have to spend time in your sessions discussing payments. Simplify online payments with AutoPay and secure online credit card processing. Plus, credit card payment processing is fully integrated with your SimplePractice account—no need for extra logins or hassle. SimplePractice also has the tools you need to successfully market your practice like the Professional Website. Choose from professionally curated themes, colors, and photos to build a simple, beautiful website in minutes. Plus, the Professional Website seamlessly integrates with your account, so you don't need to enter all your practice information twice. Your SimplePractice account also integrates with the Monarch directory, so prospective clients can easily find your practice, request an appointment, and get the care they need.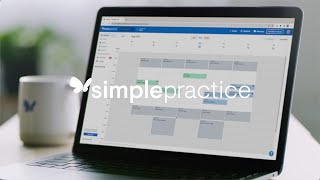 SimplePractice não possui uma versão gratuita, mas oferece versão de teste grátis. Versão paga do SimplePractice a partir de 29,00 US$/mês.
Preço inicial:
29,00 US$/mês
Versão de teste gratuita:
Sim
Alternativas para oSimplePractice
Avaliações do SimplePractice
Setor: Hospitais e Saúde
Porte da empresa: 2-10 funcionários
Usado

Diariamente

durante

Mais de um ano

Fonte da avaliação
Relação qualidade/preço
5
---
Simple Practice saved me!
Truly a lifesaver. I feel like I am not a business person, but simple practice simplifies so many aspects of this.
Vantagens
I love all of the things that the developers decided to incorporate in this platform. You can upload your business documents, any documents relevant to your client records and so much more. I have created questionnaires that are specific to my practice so that I can gather data upfront and this prevents me from missing out on money. I love the integration for scheduling appointments, telehealth and billing and invoicing. If you want to streamline your practice, this is for you.
Desvantagens
Clients cannot pay partial balances in their client portal yet, those payments have to be taken in the office.
Razões para mudar para o SimplePractice
Simple practice had many more needed features.
Resposta de

SimplePractice

Amanda, thanks for your positive review. We're proud to give you the back office you need to run a professional practice. Please don't hesitate to reach out if there's any additional feedback you have. - Gillian from SimplePractice

Respondido em 13/08/2019
Setor: Clínica de saúde mental
Porte da empresa: Profissional autônomo
Usado

Diariamente

durante

Mais de dois anos

Fonte da avaliação
Relação qualidade/preço
3
---
Reliable, but pricey
Consistent, reliable, but feels like I'm on my own when I encounter questions/issues.
Vantagens
Everything is in one place, and easy to use. The platform is reliable (I don't use the telehealth feature), and straightforward.
Desvantagens
That I have to pay the highest tier price simply because I wanted to keep calendar syncing. I don't use the telehealth, and everything else was available under the mid tier price.
Also, you can never actually talk with customer service, everything has to be searched in their FAQ sections.
Razões para mudar para o SimplePractice
At the time, it was more affordable, recommended, and I received a discount from the referral.
Setor: Saúde, bem-estar e condicionamento físico
Porte da empresa: 2-10 funcionários
Usado

Diariamente

durante

Mais de um ano

Fonte da avaliação
Relação qualidade/preço
2
---
Okay for solo practices. EXPENSIVE for groups.
Vantagens
I enjoyed how simple this software was and how intuitive it was to use.
Desvantagens
This is one of the most expensive EHRs with the least amount of customization ability.
Setor: Hospitais e Saúde
Porte da empresa: 11-50 funcionários
Usado

Diariamente

durante

Avaliação gratuita

Fonte da avaliação
Relação qualidade/preço
4
---
Free to try
Simplepractice actually has a very helpful schedule and messaging feature. It's just not really constructed for home health care.
Vantagens
A full access free trial let us try Simplepractice before committing.
Unlimited reminders help patients keep appointments. I liked the patient portal and messaging service, patients can contact us faster and if phone lines are busy we can still be reached. The scheduling feature was easy to use and manage. Telehealth service allows screen sharing and audio is clear.
HIPAA compliant and HITRUST CSF certified.
Desvantagens
Because this organization has multiple providers keeping SimplePractice would've been expensive. I was expecting more flexibility and better video with telehealth.
The customer support team was responsive but not helpful or friendly.
Razões para escolher o SimplePractice
Alora is very easy to use and is affordable but too simple.
Setor: Serviços a indivíduos e famílias
Porte da empresa: 2-10 funcionários
Usado

Diariamente

durante

Mais de dois anos

Fonte da avaliação
Relação qualidade/preço
5
---
The best option in town
I love it, especially with all of their new improvements.
Vantagens
They have a very easy to use format. They have all of the features needed for an individual private practice. And they have been enhancing their features to complement smaller group practices.
Desvantagens
Customer service is in another part of the country, so the time zone is off by a few hours. Also, there is no human contact to consult with. Everything must be done electronically until it is escalated to a email chat then virtual call.
Razões para mudar para o SimplePractice
It seemed more well known, and it had more reviews and customers.