Sobre o SAP S/4HANA Cloud
SAP S/4HANA is a cloud-based and on-premise enterprise resource planning (ERP) solution. It is suitable for small, midsize and large businesses in industries such as automotive, engineering, construction, mining, research and development, retail, wholesale, public sector and utilities. Primary features include finance performance measurement, supply chain management, purchasing, contract management, lifecycle management, production cost management and accounting. Other features include audit trails, compliance reporting, billing, dispute management, production planning, materials requirements planning (MRP), maintenance management, quality management, product lifecycle management, research and development. It offers integration with SuccessFactors Employee Central, Ariba, SAP Financial Services, SAP Fieldglass and SAP Hybris Cloud for Customer. Support is offered via email and over a phone. Other help options include preferred care, support portal, self-help portal, guided resources, online chat and online case submission. Mobile applications are available for iOS, Android and Windows phones.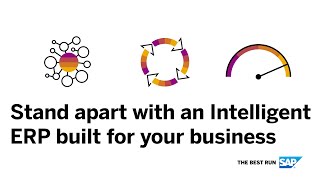 Preço do SAP S/4HANA Cloud
SAP S/4HANA Cloud não possui uma versão gratuita, mas oferece versão de teste grátis.
Preço inicial:
Sem informação do fornecedor
Detalhes dos preços:
Not Applicable
Versão de teste gratuita:
Sim
Alternativas para oSAP S/4HANA Cloud
Avaliações do SAP S/4HANA Cloud
Porte da empresa: 201-500 funcionários
Usado

Diariamente

durante

Mais de dois anos

Fonte da avaliação
Relação qualidade/preço
5
---
SAP Hana is a memory data platform that accelerate the business processes,deliver process...
Vantagens
The best multi combination platform that are driven with data platform and as report generation tool. Best part of this software is it removes the burden of maintaining any additional system to hold our data it acts as 2 in 1 which holds and generates output results.so that we can run live and make better business decisions in the new digital economy.The features are like reduce its complexity, we can run this any where and can give accurate and real results some more additions operations it include are Transform data management,Process data in memory,Leverage advanced analytics, and can develop advances applications. Best storage as well as analytics based software that stores in Idoc data presentations
Desvantagens
The SAP Hana was very least thing to say because it is very best in tool for holding large massive data and its generation of the reports but we requires additional changes in the page layout and design of the SAP lOGON need to be changed and immediate password change assitance need to be required. if they implement this software will be very more useful
Setor: Química
Porte da empresa: 5 001-10 000 funcionários
Usado

Diariamente

durante

Mais de dois anos

Fonte da avaliação
Relação qualidade/preço
4
---
sap s/4 hana review
Overall, this tool is definitely needed for companies to migrate from SAP ECC. My experience with the tool has been good. The business users too feel that most of the processes are already available in the Business Content of SAP
Vantagens
This is something enterprises definitely need to move if they are running on SAP. The best part of S/4 HANA is its processing time and intelligence. The speed at which the processing is done is amazing
Desvantagens
Like other SAP products, this tool is expensive and the consulting or resources for the implementation are very expensive.
Setor: Automotivo
Porte da empresa: 51-200 funcionários
Usado

Diariamente

durante

Mais de dois anos

Fonte da avaliação
Relação qualidade/preço
1
---
SAP EXPERIENCE
HAS EVERY FUNCTION YOU COULD WANT TO MANAGE THE MAINTENANCE DEPARTMENT IN A MANUFACTURING FACILITY. THE PROBLEM IS IT IS NOT USER FRIENDLY AND YOU HAVE TO GO THROUGH SO MANY MODULES TO ACCOMPLISH SIMPLE TASKS
Vantagens
IT CAN DO JUST ABOUT ANYTHING YOU WANT TO DO FOR MAINTENANCE PLANNING/SCHEDULING AND REPAIRS INCLUDING PARTS
Desvantagens
YOU HAVE TO GO THROUGH WAY TO MANY LOOPS TO COMPLETE TASKS. NOT USER FRIENDLY. YOU CAN MANAGE THE PARTS FOR EQUIPMENT REPAIRS OR PM'S BUT THERE ARE SO MANY SCREENS YOU HAVE TO GO THROUGH TO ACCOMPLISH THIS.
Setor: Materiais de construção
Porte da empresa: Profissional autônomo
Usado

Diariamente

durante

Mais de dois anos

Fonte da avaliação
Relação qualidade/preço
5
---
Excellent system
When starting with the program, transactions and reports were a bit difficult, but after handling it, it is a very successful and reliable program.
Vantagens
The veracity of the information, the updated reports and in different formats for greater understanding and analysis.
Desvantagens
implementation and continuous updates were difficult
Setor: Serviços e tecnologia da informação
Porte da empresa: 501-1 000 funcionários
Usado

Diariamente

durante

6 a 12 meses

Fonte da avaliação
Relação qualidade/preço
5
---
ERP Product with great performance
Vantagens
Stability: no crash problem as from my experience.
Performance: send and retrieve data quickly.
Applicability: can be applied for almost any accounting standard.
Desvantagens
Cost: the product is costly, so if the company is not large enough to exploit it full to its capacity, then other products might be more cost efficient.
Razões para mudar para o SAP S/4HANA Cloud
I'm SAP Consultant. My client who went for SAP S/4HANA for Finance is a big manufacturing company with lots of cash flows in and out every month, and has a large number of SKUs.